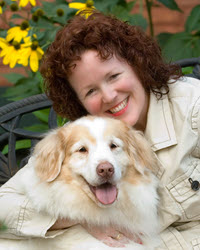 As a child I grew up in an apartment building that did not allow pets. Any time I was able to have contact with dogs or cats was such a thrill for me, and I decided at a very young age that working in the veterinary field was what I was eager to pursue. I graduated from Cornell University College of Veterinary Medicine in 1989.  After which, I worked in small animal private practice and a veterinary pharmaceutical company as a veterinary medical liaison. My role was primarily educational, teaching veterinary teams and veterinary students about a wide variety of medical, surgical, as well as wellness issues in dogs and cats.
Avoiding fear-provoking situations for pets is so important to me as veterinary behavior is a passion of mine. When a family has made the difficult decision to say goodbye to their beloved pet, being able to have your final moments with them at home, at peace and in comfortable surroundings is such a kindness.
The dog I am pictured with was my beloved Tess, who passed in the comfort of home at the age of fourteen.
Currently I am a member of the American Veterinary Medical Association, and received certification from HABRI (Human Animal Bond Research Institute) and IHC (Institute for Healthcare Communication).