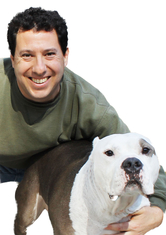 Each pet has a family who loves it and these people need a supportive and caring doctor to see to it that their pet, and they, are treated with dignity, respect and the utmost compassion. The attention I've provided my own pets when they were euthanized at home is the same level of care I strive to provide all pets.
All of my pets came to me in need. My two cats (Muffy and Puss Puss) were surrendered by their elderly owner who loved them, but could no longer keep them. My dog, Gavin (pictured at left), was seized when his owner was arrested (and subsequently convicted) for animal cruelty. Pictured throughout this website are pets that have been in my life in recent years.
I graduated from the University of Minnesota College of Veterinary Medicine in 2003 and have worked in private small animal practice as well as several animal shelters across the country. As medical director for one humane society, in addition to performing surgery and tending to the medical needs of homeless animals, I trained several euthanasia technicians not only in the technical aspects of the procedure, but also in how to compassionately perform this necessary task in accordance with the spirit of a humane organization.
In addition to providing this service full time, I keep my feet wet in animal shelter medicine and private practice filling in when needed. I also regularly volunteer for an animal welfare group and a free-roaming cat spay and neuter organization and serve on their boards of directors.
I maintain membership in the American Veterinary Medical Association, the New York State Veterinary Medical Society, Veterinary Information Network, International Association for Animal Hospice and Palliative Care, and the Association for Pet Loss and Bereavement.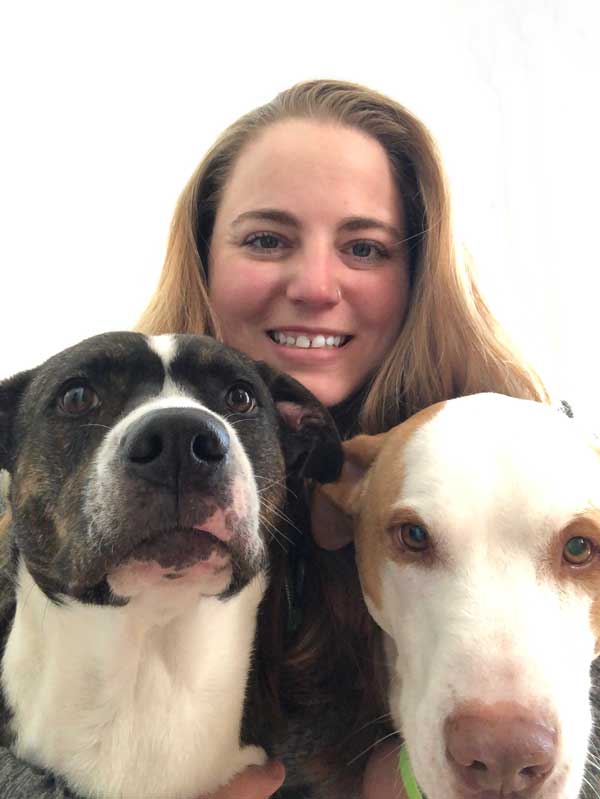 As Veterinarians, we are sworn, among other things, to prevent and relieve animal suffering. Making the decision for euthanasia is one of the most difficult choices we are faced with as pet owners. I am here to help when the time comes to ensure your furry family member passes peacefully in the comfort of their own homes.
I graduated from Michigan State University College of Veterinary Medicine in 2016 and have since worked in private small animal practice here in Upstate New York. I just recently started part-time work with Dr. Roger at In the Comfort of Home. Additionally, I am an active volunteer in both local and international programs helping to promote preventive care for animals and the protection of public health.
In my free time, I enjoy being outdoors with my two dogs Guinness and Miller (pictured left, thinking "we better be getting treats after this!") and my Belgian horse Dahlia.
Active memberships include: the American Veterinary Medical Association, the New York State Veterinary Medical Society, Veterinary Information Network, and the American Association of Public Health Veterinarians.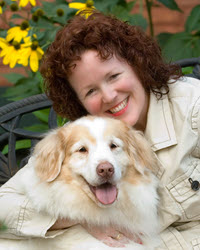 As a child I grew up in an apartment building that did not allow pets. Any time I was able to have contact with dogs or cats was such a thrill for me, and I decided at a very young age that working in the veterinary field was what I was eager to pursue. I graduated from Cornell University College of Veterinary Medicine in 1989, and worked in small animal private practice until 2000. At that point II started working with a veterinary pharmaceutical company as a veterinary medical liaison. My role was primarily educational, teaching veterinary teams and veterinary students about a wide variety of medical, surgical, as well as wellness issues in dogs and cats.
Avoiding fear-provoking situations for pets is so important to me as veterinary behavior is a passion of mine. When a family has made the difficult decision to say goodbye to their beloved pet, being able to have your final moments with them at home, at peace and in comfortable surroundings is such a kindness.
The dog I am pictured with was my beloved Tess, who passed in the comfort of home at the age of fourteen.
Currently I am a member of the American Veterinary Medical Association, and received certification from HABRI (Human Animal Bond Research Institute) and IHC (Institute for Healthcare Communication).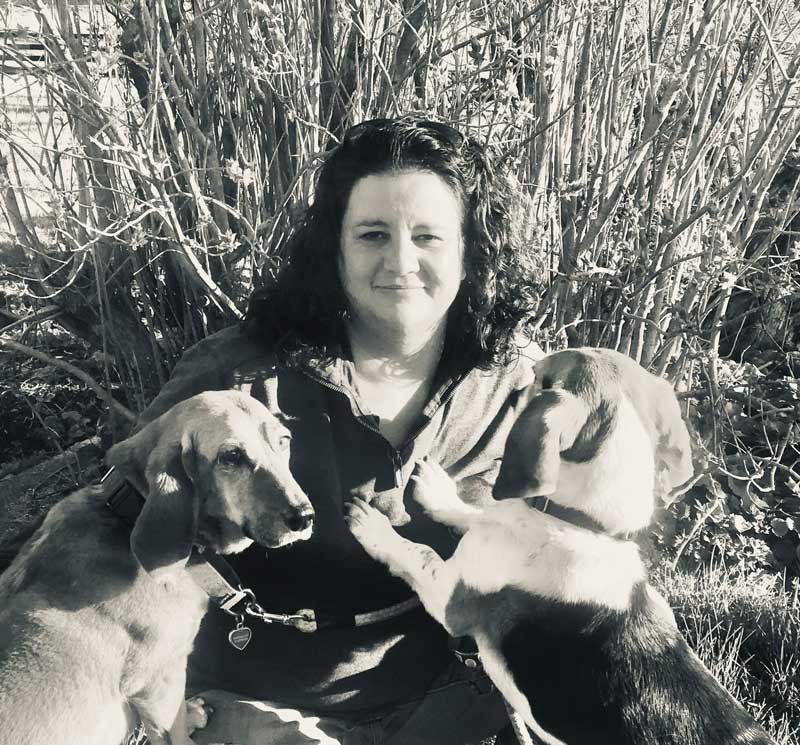 I grew up in a military family so we moved often. My parents always made sure that our pets were with us and they gave us a needed sense of continuity. As we grew up we added horses to our menagerie as well as some hamsters.
I graduated from the University of Pennsylvania College of Veterinary Medicine in 2002. When I am not working, I am with my daughter, our two dogs, a horse, and a small herd of dairy goats. They keep us busy and happy for sure. I realized that helping my clients through the end of their animal's life was challenging but incredibly rewarding. Having my own pets pass at my home was such a comfort. Helping as many pets and families as possible have this same comfort is very important to me. I am honored to be part of this team that feels the same way.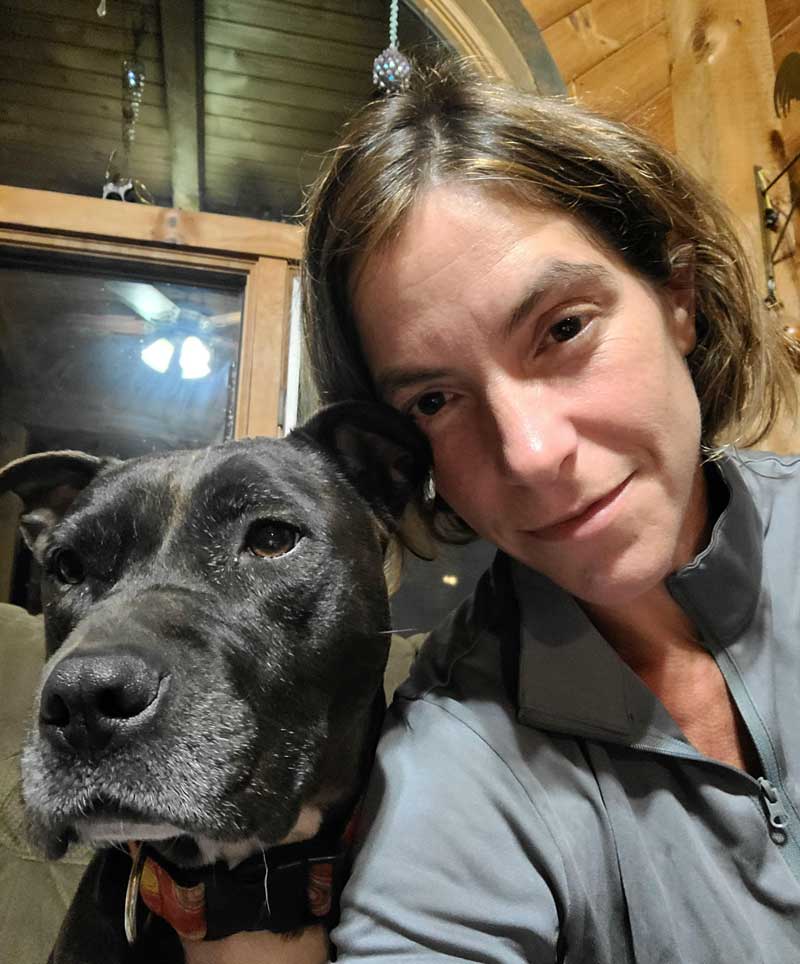 When I graduated from the University of Pennsylvania School of Veterinary Medicine in 2003, I thought I would work Emergency forever. Seventeen years, two children, and a small farm (complete with chickens, horses, dogs, cats, a donkey and several fish) later, I still work part time at the Emergency Clinic, but I also have spent five years in general practice. In my spare time, you're probably most likely to find me at the barn, but we can be seen hiking or just enjoying being outdoors.
I've said goodbye to my first true love – a cat named Palmer – who was brought into the first vet hospital I ever worked after he was thrown from a car, but thrived with me until he was lost to cancer. And there was Kyah, a mixed breed dog who we adopted at two years of age from the humane society. Sadly, there have been others too, but they have all died at home, in their space, with comfort and no fear.
When I'm asked how we do what we do, it's because I firmly believe it is a blessing to provide a peaceful and dignified passing to our cherished pets. To be able to provide that in the comfort of home is even more special and I am honored to join Dr. Roger's team.
Active memberships : American Veterinary Medical Association and Veterinary Information Network.