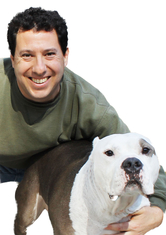 Each pet has a family who loves it and these people need a supportive and caring doctor to see to it that their pet, and they, are treated with dignity, respect and the utmost compassion. The attention I've provided my own pets when they were euthanized at home is the same level of care I strive to provide all pets.
All of my pets came to me in need. My two cats (Muffy and Puss Puss) were surrendered by their elderly owner who loved them, but could no longer keep them. My dog, Gavin (pictured at left), was seized when his owner was arrested (and subsequently convicted) for animal cruelty. Pictured throughout this website are pets that have been in my life in recent years.
I graduated from the University of Minnesota College of Veterinary Medicine in 2003 and have worked in private small animal practice as well as several animal shelters across the country. As medical director for one humane society, in addition to performing surgery and tending to the medical needs of homeless animals, I trained several euthanasia technicians not only in the technical aspects of the procedure, but also in how to compassionately perform this necessary task in accordance with the spirit of a humane organization.
In addition to providing this service full time, I keep my feet wet in animal shelter medicine and private practice filling in when needed. I also regularly volunteer for an animal welfare group and a free-roaming cat spay and neuter organization and serve on their boards of directors.
I maintain membership in the American Veterinary Medical Association, the New York State Veterinary Medical Society, Veterinary Information Network, International Association for Animal Hospice and Palliative Care, and the Association for Pet Loss and Bereavement.